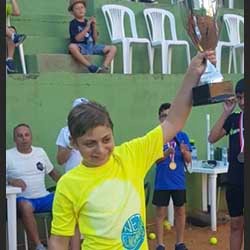 Tennis fan and brave 10-year-old Marc Krajekian has faced more challenges in the past two years than many people much older than him face in their entire life.
Marc was diagnosed with cancer when he was 8 years old and ultimately had his right leg amputated in an effort to save his life. But the youngster refused to let the surgery or his disability define him, and he was determined to get playing the sport he loves as quickly as possible.
With the help of a specially designed prosthetic leg, a strong support system and courage in the face of adversity, Marc is not only walking again, but he's back on the court and enjoying his tennis more than ever before.
In recognition of Marc's incredible journey, he has been recognized as the first Net Generation Ace, an honor given to young players who embody the qualities of sportsmanship, teamwork and leadership.
"I'm really happy to be a Net Generation Ace because I can go and inspire other kids with disabilities," Marc said at the 2018 US Open. "I've learned that when you love something and you have a challenge, you keep doing what you love. Don't think of this as a negative experience."
Marc started playing tennis at the age of 4, hitting balls in his driveway with his father Jack. But that changed when Marc started experiencing lingering pains in his right ankle. What the family thought was just a sports injury became a life-threatening illness.
Marc was diagnosed with Ewing sarcoma, a cancer that primarily affects children and young teenagers. Jack described the cancer, which developed near the growth plate in Marc's leg, as a one-in-a-million illness.
In an interview with Tennis Channel, the family said that Marc would require multiple surgeries to correct the growth discrepancy between his left and right leg, even if cancer treatment was successful. So Marc, in conjunction with Jack and mother Marie-Jo, decided the best choice was to amputate.
"I had to have [the] amputation to get the cancer out because it was in my bone," Marc said. "I was really nervous about it. My mom and dad were very supportive. They helped me make the decision to amputate it or not."
Added Marie-Jo: "We did not look at it as the day Marc is losing his leg. No, today Marc is beating cancer."
Among those who have offered inspiration and motivation along the way is Roger Federer. The 20-time Grand Slam men's singles champion sent Marc a note telling him to get well soon Marc and to let him know when he's healthy again so he can play tennis with him.
"I screamed, I ran around my whole house," Marc told Tennis Channel. "I was really excited." Federer sent Marc a package with a signed photo, a signed headband and a signed wristband, offering the child all the encouragement he needed to continue fighting.
"I think making dreams come true for other people is something I'm in a privileged position to be in," Federer said at the 2017 US Open. "I'm his big hero apparently. He looked to me in the difficult times, so it's finally very nice to get to meet this little boy."
Paul Annacone invited Marc and his family to join him at the US Open and it was here that Marc finally met his hero. Federer signed a hat, a racquet, a wristband and a giant tennis ball and Marc got to hit on the US Open courts as his idol practiced alongside him. After practice, Federer and Marc played a couple points, Marc lobbing the five-time US Open champion in one of a number of highlights of his day in New York City.
Father Jack said he's delighted to see his son back out on the court. "Marc is a very outgoing child," he told Tennis Channel. "He loves life, he's full of energy and tennis was his first passion."
Said Marc: "When I was in hospital, I was thinking I need to recover fast so I can go beat my friends at tennis and win some matches so I can show people that I'm not just going to give up."