CELEBRATE NET GENERATION COACH SUNNY MARTIN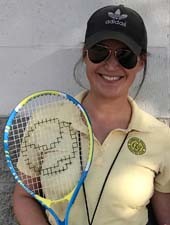 My name is Sunny Martin and I am the physical education teacher at Cordova Elementary School in the Alhambra Elementary School District located in Phoenix, Ariz. I was a sixth-grade classroom teacher for 10 years before making the transition to PE three years ago. I have been at Cordova for all three of those years.
The Alhambra school district is comprised of 14 schools and serves around 13,500 students. Cordova is a K-8 Title 1 school that was built in the 80s and services the inner-city students of an area known as Maryvale. We educate more than 900 students in grades K-8 on a daily basis.

In Alhambra, our mission statement goes as follows: "Alhambra Elementary School District will enrich the life of the whole child in collaboration with families and the greater community. We will promote a social and global consciousness that encompasses a profound respect for all humanity."

That's where Net Generation comes in.

Net Generation is a program that looks to not only expose kids to the sport of tennis, but also focuses on sportsmanship and character building. Each lesson in the red ball community curriculum starts with a pledge and word of the day. Before we begin tennis drills, my students and I discuss the importance of listening, respect, effort, teamwork and responsibility. My students walk away from each and every tennis club with not only the foundational knowledge of tennis, but also with life and social skills.

The students take pride in being a member of our after school tennis club and they talk about it constantly. We end each tennis club with a group cheer which promotes positivity and almost creates a mini tennis family. The positive effects of participation in tennis are evident. Athletes typically have higher grades than non-athletes, and participation in sports shows students how to work as a team, be confident and be persistent in order to succeed.

For many of our kiddos, tennis is a completely foreign sport. Often when the students join the tennis club, it is their first time picking up a racquet.

The students at Cordova come from all over the world. They come from a variety of different cultures and backgrounds and there are multiple languages spoken on campus. We even have students attending school for the first time in the U.S. here at Cordova. Our school is a diverse and accepting campus.

Moreover, Cordova was fortunate because it was able to enlist the help of the USTA Phoenix early development coordinator Kelsey Lawson to assist our school in getting Net Generation off the ground.

Kelsey is an integral part of Cordova's tennis club. She is a Phoenix district Tennis Service Representative and she helped me get signed up with Net Generation and trained on the red ball community curriculum. Our goal is to get more schools in the Alhambra district to provide after school tennis programs to eventually have an Alhambra elementary school league.

Kelsey and I have worked together for two years and we plan to continue to work together to promote tennis in a community that is relatively new to the sport.