CELEBRATE NET GENERATION COACH JOSHUA BRACE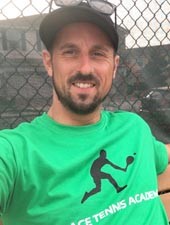 Tennis coach Joshua Brace has a simple philosophy that he hopes will keep children playing the sport for years to come: Make tennis fun.
Brace, a USPTA-certified instructor in Lake Nona, Fla., believes a youngster's first interaction with tennis is one of the most important aspects of what he hopes is a life-long love for the game.
"If children can't enjoy the first six weeks of lessons, they will not continue to play tennis or have the enthusiasm to continue," said Brace, who has also coached in Australia and the United Kingdom. "Make all classes fun, exciting and active and they will play for years to come, because they associate tennis with fun and friends."
As part of his mission to grow the game, Brace opened the brACE TENNIS ACADEMY in the Eagle Creek community of Lake Nona. After partnering with Net Generation, the official youth tennis of the USTA, Brace began offering tennis programming in the local elementary and middle schools, impacting 70 children every week.
Classes involve rotating the youngsters through activity stations for 8-10 minutes, with an emphasis on the fundamentals of sports, including running, jumping, throwing, catching and hitting.
The exercises are repeated throughout the program and the skills practiced in ways that challenge and excite the children.
"The Net Generation program is designed to teach all of these fundamentals under the umbrella of a tennis class," said Brace. "With the fun and enjoyment comes participation. The more children finishing lessons saying, 'We love tennis,' the more players we will have to work with in the future. These classes are stepping stones to more specific understanding of how to play the sport of tennis.
"Watching children using small racquets, large red balls or orange balls and creating tennis courts out of nothing on the playground, we can show off our philosophy of learning in a new environment which promotes all of the key motor skills in life while enjoying themselves."
Moving forward, Brace and his team hope to continue increasing opportunities in the area for schools and finding other facilities in the area for their outreach program. An internationally qualified umpire who has worked at the US Open and Wimbledon, Brace says Lake Nona has a wonderful family base that can benefit from introducing tennis to youngsters.
In addition to working with children, Brace, with support from USTA Florida, has been working with school teachers to help provide after-school classes. With the easy-to-follow community curriculum, teachers with little tennis experience can help with exercises and activities to help children improve their skills and have a great time.
"My objectives are to provide a coaching program for all ages and abilities and expand the opportunities to play this great sport to all in the Eagle Creek and Lake Nona area," said Brace.
"The most impressive aspect is watching large groups of children with coaches and volunteers all participating in one of the key fundamentals. Tennis coaching is adapting to modern thinking, incorporating activity in every station and game."