CELEBRATE NET GENERATION COACHES JOSHUA FORD & KRISTOFFER WILLIAMS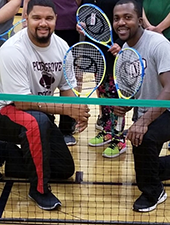 Joshua Ford and Kristoffer Williams are both physical education teachers and tennis coaches in the Reading School District – Ford at Northwest Elementary School and Williams at 13th & Green Elementary School. Those are two of the five elementary schools in the district that make up the El COR (City of Reading) elementary tennis league, which operates through the Reading Recreation Commission, in association with Fromuth Tennis and the USTA Net Generation.
"Net Generation has allowed coaches to come in and introduce tennis to our students during the school year," said Ford. "They have provided equipment and resources to help our students learn a lifelong fitness activity."
Ford said the best part about coaching youth players is seeing them put to use what they have learned and practiced.
"Seeing a third-grade, first-year player develop and use effectively a backhand stroke in a competitive match is awesome."
Ford appreciates how accessible Net Generation has been for his program, responding to any questions they may have.
"It brings everyone together and helps us as teachers communicate outside of just school," he said. "It gives parents an early look at student-athletes." Ford also pointed out that because the program is in the school, everyone understands that schoolwork needs to be done first before tennis.
Ford said the Net Generation curriculum has helped his students improve their hand-eye coordination. It's also been important in developing teamwork and communication with peers.
For Williams, the league season begins at the end of October and runs through the beginning of March, culminating with the El COR City Championship. But it's prior to the start of the season that might be the most important time of the year. That's when Williams introduces tennis as a unit in his class to both work on striking skills and garner interest from students to join the team.
"This would be not possible without the equipment supplied by Net Generation, which allows me to ensure that each student has a racquet to use," Williams said. "Our tennis unit in Phys Ed. class not only helps students with hand-eye coordination, teamwork and communication, but also promotes participation on our team for the upcoming season. This year we had over 45 students on our team! Having this many students at one time can be challenging, but Net Gen's support with equipment and resources makes this task possible."
Williams feels extremely rewarded coaching kids this age.
"Being able to watch a child's game develop throughout the course of the season, or their skill progression and knowledge of the game from grade to grade is without a doubt my favorite part of being their coach," he said.
"Overall, what I love about Net Generation is their commitment and unwavering support of our program here in the Reading School District. From supplying equipment and teaching materials to even this past school year holding a professional development seminar for the entire physical education department in the district; they truly go above and beyond in order to promote this wonderful sport."
Williams added that Net Generation has allowed his students to grow both athletically and socially.
"Students look forward to the start of our tennis season and our school rallies around our team," he said. "During the season you will often find our teachers wearing our team logo proudly in support of their students. Aside from the lifelong fitness benefits that tennis presents, a major influence in my decision to start a team was to instill a sense of school pride with our students. When I first arrived at 13th and Green, school pride was something I noticed could be improved. Our team has without question made our students proud that they attend 13th & Green."