CELEBRATE NET GENERATION COACH DIANE BROOKS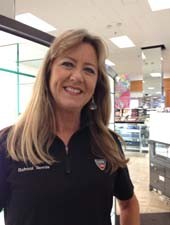 My name is Diane Brooks and I'm the director of Half Moon Bay After-School Tennis Programs.
I grew up playing USTA junior tournament tennis in San Mateo, CA from the age of 10.

My father Norman Brooks served as USTA Northern California's first Board Secretary after World War 2. For 25 years, he also worked for Wilson Sporting Goods selling tennis racquets and equipment which allowed him to drive me to most every tournament I entered and still be able to call on his accounts at clubs or parks where the matches were played.
He taught me the importance in understanding and respecting that without the support of the USTA, I would not had been given the opportunity to travel playing tennis around the country as I did as a junior.
For years before retiring, I had the real privilege of working with USTA NorCal as a Tennis Service Representative (TSR) serving the San Joaquin Valley. During those earlier years of USTA's unveiling of '10 and Under Tennis,' I witnessed an explosion of many hundreds of kids having fun playing tennis for the first time, taught under the USTA Pathway system on their after-school playgrounds.
Around four years ago, I moved to Half Moon Bay, a small town of 13,000 residents and a strong USTA tennis community. I noticed there were no after-school tennis programs at any of the five elementary schools, causing a real disadvantage for the coach finding experienced players to join their middle school tennis teams.
Fast forward to 2019, and with guidance from USTA Northern California, a working partnership agreement was established between three not-for-profit organizations: Half Moon Bay Coastside Tennis Association, Coastside Children's Program, and USTA Northern California.
These organizations collaborated with myself and 15 local volunteers to implement and coach USTA NorCal's H.I.T.S. (Honesty, Inspiration, Teamwork and Sportsmanship) Tennis and Enrichment program at five elementary schools for eight weeks each season after school on school playgrounds.
We also introduced our partners to the Net Generation curricula, and we're benefiting from using Net Generation's coaching, parent and player resources to help our program gain additional activities, knowledge and depth.
The biggest difference we've seen thus far with using the Net Generation program is it has given our ROGY (red- orange- green- and yellow-ball) program wonderful exposure when trying to link events with other nearby facilities to further the kids playing.
Each class consists of 15 minutes of enrichment and life skills with a one-hour lesson to follow on the playground.
Our goal originated from a rather simple grass-roots growth idea: To inspire and expand the number of graduating fifth-grade boys and girls to play on their middle school tennis team in spring.
Now in its fourth year, our program has grown dramatically. In 2018, our volunteer coaches worked with 105 children between second and fifth grade at five elementary schools in Half Moon Bay.