CELEBRATE NET GENERATION COACHES DENA COE & RAPHAEL RODRIGUES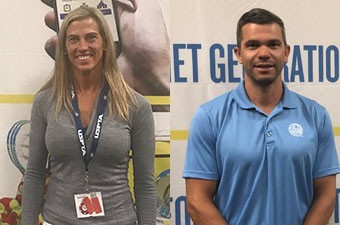 Two USPTA-certified coaches are raising their game and making tennis more fun for the children they teach by incorporating the new and exciting Net Generation mobile app into lessons.
Dena Coe and Raphael Rodrigues introduced 120 young tennis players to the Net Generation app, earning them a trip to USPTA World Conference in Las Vegas in September.
Coe, who coaches in Mason, Texas, connected 78 kids to the online platform, while Brazil native Rodrigues, who lives and teaches in Atlanta, Ga., introduced 42 other players to the app during a two-week contest in mid-August.
Through the app, coaches can interact with their players to send practice activities, constructive feedback and skill assessments. Coaches also have access to USTA coaching curriculums which include videos and coaches can also create custom lesson plans using the warmups, skills, games, and play-at-home activities. Providers can also take these custom lesson plans and share them with other Net Generation providers.
For the players, they have the ability to connect with their coach and receive badges for skills they accomplish. They can access fun extra credit activities, complete cool tricks and skill challenges and track their tennis activity by checking in at all their tennis events. In addition, a digital Net Generation Player's Journal helps grow their game and train like the pros.
"It's a great tool for us as coaches," Rodrigues said of the app. "I've always had a passion working with kids and when Net Generation came with this product I just felt like it embraced [everything]. For kids and the development [of] our program, it's all there.
"I feel like we're so much more creative. The lessons are more fun and I feel like the kids can make progress a little bit faster. We can give feedback and all those things. I just feel like it has just helped our program so much and the kids to become better athletes. The app is on every coach's phone."
For Coe, her love of coaching is evident by her dedication to the sport and to the children she teaches.
Coe currently teaches 80 children, split into groups of eight or 10 children by age, three days a week. She says there is enough demand to coach even more youngsters but that there just isn't enough hours in the day, especially since she coaches on her own and only has access to one court at a time.
What makes Coe's story even more remarkable is that she lives in Dallas but coaches in Mason — which is 250 miles away and takes four hours to drive each way — every Tuesday, Wednesday and Thursday.
"I love my kids so much," Coe said. "I would not do this if I did not love these kids. And I tell them that every day. I'm only here because I love you guys so much."
USTA Net Generation National Manager Leah Friedman praised the two coaches for their dedication to growing the game.
"Thank you to Dena and Raphael who have shown commitment to their community and Net Generation," Friedman said. "We value their efforts on the court and their leadership; they are encouraging other teaching professionals to grow their programs through their passion for the sport."
Download the Net Generation Mobile app and get started today!