CELEBRATE NET GENERATION COACH ANDY MIZELL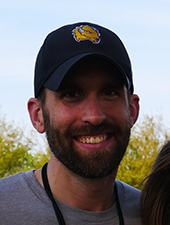 My name is Andy Mizell, and I am an ESL teacher at Margaret Allen Middle School in Nashville, Tenn., as well as a USPTA Professionally Certified Tennis Teaching Pro on the side. Last year, we officially started a free NJTL After School Tennis Program for the students at my school.
What was your pathway into the tennis world? This is the very question that fuels my passion for bringing tennis to all people, regardless of economic status. How and where I started tennis was at a local country club in my neighborhood, where I had the privilege and opportunity to do so because my parents had the means to provide that for me. Eventually I received a scholarship to play college tennis. This pathway into the tennis world seems fairly simple, but it only allows a certain amount of people to join in on the fun. I truly believe we need to exponentially grow the diversity of the tennis world by making it more accessible to everyone, and that is exactly what Net Generation is beginning to do around the country.
The tennis program at Margaret Allen Middle School would not have happened were it not for the outpouring of support from Net Generation, USTA Tennessee, community partners and teacher volunteers.
It all began when USTA Tennessee surprised us with two huge rolling bags provided by Net Generation that contained racquets, tennis balls, pop-up nets, caution tape and more! This was exactly what we needed in order to take a step towards providing a pathway, for my students, into the tennis world. Margaret Allen Middle School is an inner-city public school with almost 100% of the students receiving free or reduced-price breakfast, lunch and after-school program meals.
What makes our program unique is that we play all of our tennis in the only available location on our school's property, the bus lane. The buses leave, the pop-up nets and caution tape come out, the giant Net Generation bags full of tennis racquets open up, and the fun begins. Despite not having tennis courts, the program still had 50 students join this past year. Seeing the smiles on the students' faces reminded me of when I started playing tennis, even though the pathway for these students is just a little different. I dream of a day when one of these students grows up to be US Open champion, and he or she will talk about their pathway into the tennis world -- in the bus lane at Margaret Allen Middle School.
We could only meet 15 times this past school year due to the financial obstacle of providing bus transportation home after the program. The students would not be able to do the program without that. If it were not for the great generosity of the members at Hillwood Country Club in Nashville, we would not have been able to provide the bus rides home, or ultimately, the program.
Net Generation has started a movement. When we can put a racquet in these kids' hands and a smile on their faces, their lives will change forever. I hear things in the hallways and classrooms such as, "Are we having tennis today?!" and "I am so excited because we have tennis after school today." Hearing and feeling this love for tennis is the same reason we love it. Ultimately, we should all be provided equal opportunity into the game, and that's exactly what Net Generation has done for Margaret Allen Middle School and many others across the United States. THANK YOU!