CELEBRATE NET GENERATION COACH SIMON GALE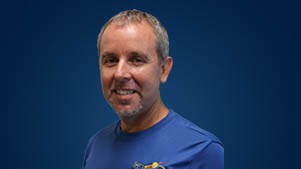 Originally from Perth, Australia, Simon Gale has lived in the U.S. for over 20 years and has been based in the Northeast since he arrived. Gale currently serves as Partner/General Manager at Taconic Sport and Racquet in Hopewell Junction, N.Y. He shares his thoughts below on the USTA's Net Generation youth initiative.
The launch of Net Generation has helped me stay at the forefront of industry standards for coaching youth players. Being a part of the Net Gen Ambassador team and a trainer has allowed me to take a look at how we deliver our program at a local level. To me, anytime you can step back and look at your program and how it is being received by your customers is a good thing.
The resources and technology that are available through Net Generation enable you to take what you need for your facility and add them as you see fit. It is not a teaching method that we are being told or asked to teach but a series of amazing resources that you can use to further your program, train your staff, engage both the community and parents of your players, and create a clear message that we are a progressive club that is invested in your child. Any time you can improve, you have to do it! With Net Gen, I believe the tools are there for a program director to add something to an established, well-run program or to assist a struggling program by adding clear structure and a guideline for successful delivery.
Coaching youth players is how I got started in the industry, and even though I don't teach much anymore, the thrill of watching a child "get it" after showing them something is still the biggest high you can get. It's real and spontaneous, so I love when those moments happen in a player's development. We are lucky to be given the opportunity to influence young people's lives, and the Net Generation brand will help drive more children to our local providers. That is what I hope will be the greatest "assist" the program gives clubs and coaches.
We have all seen many USTA programs rolled out over the years. Some stick, while others come and go. I have been fortunate to be a part of many over the last 10 years with R-O-G-Y pathways and trainings. Net Generation is different because it is a complete program that extends beyond the 10-&-under arena. Instead of teaching pros selling 10&U tennis, for the first time in a long time, we are just selling "tennis," plain and simple. When you dig into the resources, you see a more comprehensive product that covers curriculum, competencies, social media, marketing tools, website, training videos, assessment, and it all comes together on an app that enables one-stop shopping for the teaching pro. We have spent time as a staff utilizing many aspects of the brand, including lesson plans, on-court videos and ways to assess our players. We don't use all aspects of it, but that is why we love it.
We can add the relevant parts to our program.
Now more than ever, the importance of having qualified, background-checked teaching professionals cannot be emphasized enough. In order to become a certified provider, you must complete a Safe Play course and pass a background check. I was thrilled to see this aspect included with Net Gen. I have had all my teaching staff go through the certification process and think it is a huge selling point when parents bring their children to the club. To be able to say "all of my teaching pros are background checked" validates that you are serious about the instructors you hire.
Being a provider has given my players the opportunity to play at the US Open. We were fortunate to be asked to do the Net Generation on-court demonstration, pre-match during the US Open. I cannot tell you how excited the kids were to be playing on the court their idols play on. I believe that "moment" could have changed their lives and influenced where tennis fits in their future plans. It's more than just tennis we teach!