CELEBRATE NET GENERATION COACH MILJANA JOCIC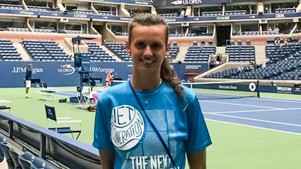 Miljana Jocic moved to the U.S. from Serbia in 2007 to attend college at the University of South Carolina, where she competed on the women's tennis team. For the past four years, she has served as the Junior Development Director at Five Star Tennis Center, a tennis club located in Chicago, where she has utilized Net Generation with her students.

I love coaching youth players. I believe in teaching the kids character, along with developing their tennis skills. To me, that it is the best part of being a tennis professional – looking at the bigger picture and impacting a young athlete to develop, first as a person and then as a player. Net Generation has been instrumental in helping me do just that. It has positively influenced my coaching on the court, helped in training the pros at our club and given us even more consistency in developing our lesson plans, while also allowing me to be more involved in my community.
There are many things that I love about Net Generation, and at the top of the list is the curriculum that is available for providers. The curriculum has been a great tool for the coaches in our program. It is well structured, provides helpful pictures and videos and uses "kid-friendly" language. Our players love the names of the games and drills and have more fun on court because of that. It's great to see that, across all our courts, classes look the same because pros follow the lesson plans. 
I am a big believer in community tennis. Tennis has given me so much, and I would love to pass on my passion for the sport to young athletes, not only at tennis clubs but also in schools. Net Generation is different, not only because it provides the great curriculum but also because it exposes our young players to the right-sized equipment so that they can enjoy the game from the very beginning of their tennis careers.
Because of Net Generation, my program and our players were able to experience a once-in-a-lifetime opportunity. Last year, 24 tennis players from the Chicago area flew to New York City to participate in an on-court demo powered by Net Generation at the US Open. While we were there, our kids had the pleasure to play in Arthur Ashe Stadium. Wow! We had all levels of players there. Some were more experienced and had been dreaming about a moment like this for long time, while others were completely new to the game and, because of this experience, fell in love with the sport even more. They came home, wanted to practice more and started watching tennis tournaments as often as they could.
Those who didn't go last year saw the pictures and heard about the trip from the players who went, and they kept asking me when we could go again so that they could join in on the fun, as well. Because of Net Generation, I was able to give them the answer they were looking for, as we were part of the on-court demo again this year. It was such an exciting moment for the players and coaches and an experience that everyone who is part of our program will never forget.