CELEBRATE NET GENERATION TEACHER LISA RAHKOLA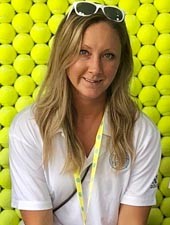 My name is Lisa Rahkola and I am an instructor in the Physical Education Teacher Education Program at the University of Minnesota Duluth. Prior to working in a teacher preparation program, I taught elementary PE at New Discoveries Montessori Academy in Hutchinson, Minn.
As a physical educator and long-time tennis player myself, I see that value in tennis as a lifelong physical activity in which every child should have a quality experience to participate. During striking units in physical education, I was proud to offer equipment from Net Generation as an option for students to choose while participating in various practice tasks and educational games. The equipment from Net Generation is not only adaptable to a variety of lessons for tennis and striking activities, but it is complemented by curriculum that serves as a platform for teachers to differentiate in meeting grade level outcomes by SHAPE America. The best part? Not only do students have success with the specially designed equipment during PE class, but when working in an elementary setting, students would consistently ask to borrow equipment on breaks and at recess. Students would come into my office and say, "Mrs. Rahkola, can you set up the caution tape in the gym so that we can play tennis for five minutes? And, you are going to play with us, right?" It's tough to say no to that. Beyond that, I found the whole idea of caution tape ground-breaking, especially teaching adapted physical education in a hallway. The equipment and curriculum were applicable to teaching students with adapted physical education services as well, while creating positive social interactions.
Net Generation had a large impact on my physical education program at New Discoveries, but now the impact has changed as I have been working to integrate Net Generation into our undergraduate experience at UMD. These teacher candidates are the future of physical education, and it is important to me that they know the supports that are available to them to best serve their future students. At the Minnesota Society of Health and Physical Educators conference this fall, UMD students were eager to sign up to get involved with Net Generation. Not only did the opportunity for them to get curriculum and equipment for their school once they land a job excite them, but my students actively participated in the Net Generation youth tennis session at the conference. That was the culminating event for me regarding why this program is so important. I want my students to be successful teachers who have the knowledge and resources to provide quality physical education programs that meet standards, while carrying on a passion for physical literacy, and I think tennis can be a large part of that.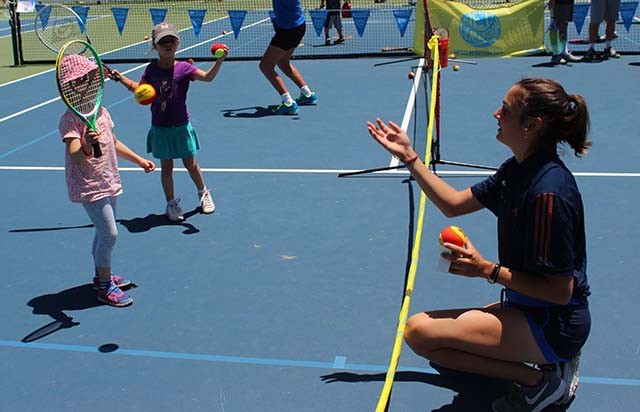 Besides using the Net Generation curriculum in my PE program, I was also given an opportunity to talk with coordinators and other teachers from around the nation at the Teachers Tennis Conference in August 2018. It was in the summer when I received an email from Elliott Pettit, the Director of School Tennis for the United States Tennis Association. He began with, "We created Net Generation to better serve you and make tennis easier than ever to be played in your classes and by all accounts, you're doing a great job!" Then he offered me the opportunity to attend the conference in New York at the US Open. I remember sitting in the stands, watching Venus Williams play, and thinking to myself, why do I deserve this? Elliott said that Net Generation was created to better serve me and make it easy to play in my classes. I feel that the program has done that and so much more for me, for my elementary students and now for my college students who will serve in the field. This program has made me become even more passionate about the game of tennis and all it has to offer, and my hope is that I can continue my involvement with Net Generation to contribute to the ultimate goal of physical education in developing young people who are physically literate. I believe that physical educators have the most important job in the world in developing competent and confident movers for life, and I want to ensure that all students have access to what this program has to offer, because tennis might just be that lifelong activity for many students. It's more than tennis, it's getting people up and moving, and it might even be saving lives. I feel very fortunate to have a voice for tennis in the schools, and I hope to continue to make it accessible for more youth to come.