CELEBRATE NET GENERATION COACH CHANNING HALE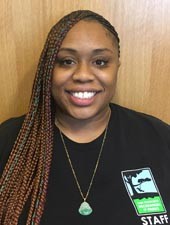 My name is Channing Hale and I am a San Francisco native from the Bay View Hunter's Point area. I am the Program Coordinator for the Tennis and Learning Center (TLC) After School Program in the San Francisco Recreation and Parks Department. I oversee a total of four TLC sites that service families located in our cities' equity zones. The students that attend our program receive a great number of services. One of the most outstanding services they receive is being a part of a Net Generation program that takes place Monday through Friday for an hour each day.
I had the pleasure of being introduced to tennis once I became the coordinator for the TLC program. Transitioning into tennis was an easy task for myself – due to having a basketball background, I was able to adapt to the sport. Once I started to get the hang of tennis, with the help of the Net Generation curriculum, I became a natural and was able to share my joy of the sport with my staff and peers. Net Generation not only teaches students how to play tennis, but it also teaches self-discipline on and off the court. It also helps players to properly interact with each other and it teaches both sportsmanship and the rules of the game.
I really enjoy watching the students take part in this program, because I am able to see a different side to them than in a classroom setting. The students of the TLC program come from all backgrounds of life, and a lot of them have never been to a tennis court let alone know what tennis is. So to watch the joy in their faces when the coaches and I tell them it's time for tennis is amazing. In the beginning they were skeptical of the sport, as any child would be, being introduced to a new sport. Due to the curriculum of Net Generation, it was simple for the coaches to transition the students from beginners to "semi-pros," as the students call themselves. The games and the tasks within the curriculum also gave the students accountability and camaraderie within the sport.
Net Generation has a curriculum where anyone without any experience in tennis is able to coach a group of players. The breakdown of the curriculum gives details of how and when a player should complete a level, plus instructional tips from how to hold a racquet to how to serve.
Our students in the TLC program are year-round, so we are able to stay on task with all the players. When it's time to hit the courts we are able to break them up into groups depending on their skill level. When they return the following year they are able to pick up where they left off. I've been truly amazed what Net Generation has done for our communities.
Being a product of a single-parent home, and with few resources and little tennis knowledge, I am glad to have a program like Net Generation play a part in these students' lives. The students come back to programming from the weekend with so much excitement, telling coaches how they took their parents or younger siblings to the courts and taught them how to play tennis. Growing up in a neighborhood where there aren't many tennis courts could discourage a student from wanting to play, but with the Net Generation curriculum, tennis could be played anywhere with just a small amount of space. For example, it could be played on a basketball court outside or inside – it would just require a pop-up net or even just a rope and two cones. That is what makes Net Generation such a great curriculum.
I also had the pleasure of attending a Net Generation training conference in Atlanta, where I was able to meet members from other organizations from around the world and hear the impact Net Generation has also had in their communities. It is truly great to know that there are students who have a chance to play such a competitive sport and get training in it for free. I am excited to see where the tennis experience leads these students. You will have your few that venture off and try something different, but for those who I watch that consistently want to practice on their skills, I know they will go far as long as they continue to believe in themselves.